A giant game of Where's Waldo, the childhood book we all love. But in real life! Thirteen fake Waldo's were hidden throughout the mall, with only one real waldo. Each fake waldo had a clue about the real waldo's whereabouts, but they would only give it out if the participants completed a task! The tasks varied from doing a model walk, singing a song, finding waldo in a waldo book, complimenting random people, finding the name of an employee in a store, etc.
Check out the video we have put together, and then continue down to see some pictures and read more about how it went.
http://www.youtube.com/watch?v=uK_6NfMZs4c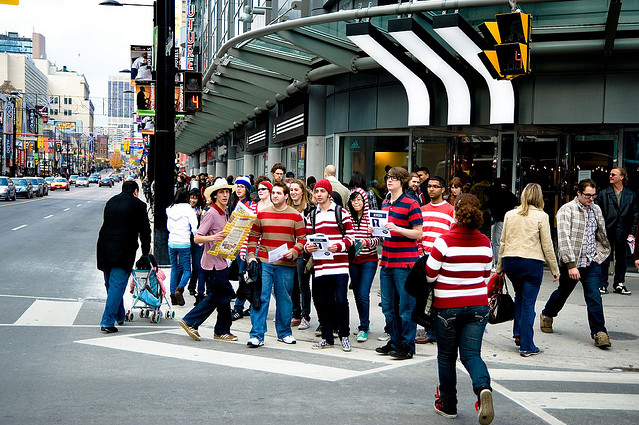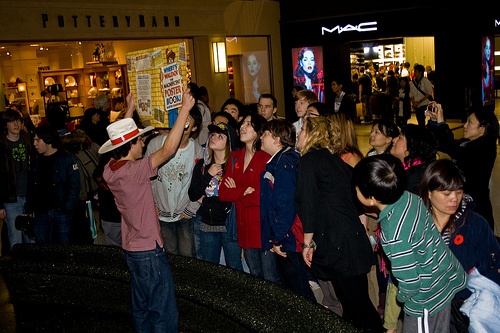 As it hit 2:00, the game began. Waldo's appeared all over the mall, the crowds of people began searching far and wide!
The game was now in motion, and it did not take long for a winner to be declared. 2 minutes and 2 seconds after the game had started, Waldo was found. Yes that fast. Three participants had gone for a drink at Starbucks and had complete luck, found the real Waldo.
From that point on, until about an hour and a half later, the Starbucks was crazy. There was constant a lineup filling up half the store waiting to get to Waldo. There were people everywhere, all of which wanted a pictures.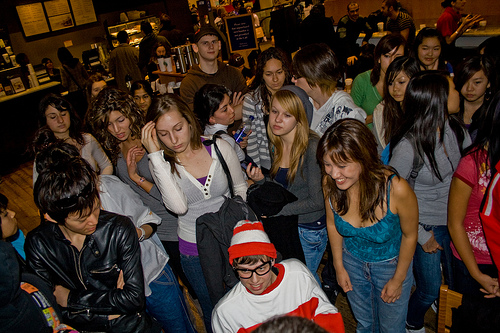 Within a half hour of the start of the game we were out of prizes. We started out giving Waldo books to the winners, then gave out lollipops, and eventually had nothing left. We hadn't expected such an onslaught of people searching! It was amazing the enthusiasm that people were putting into the searching!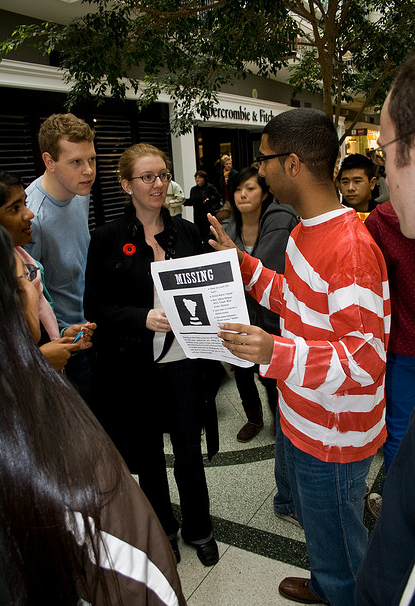 The game continued on with some people taking a couple hours to solve the mystery. All the other waldo's were having a crazy time. Many were being bombared with participants, all wanting their clue. Before any clue would be given, participants were required to finish a task. The tasks really got people involved, requiring them to sing in public, or strike up conversations with total strangers.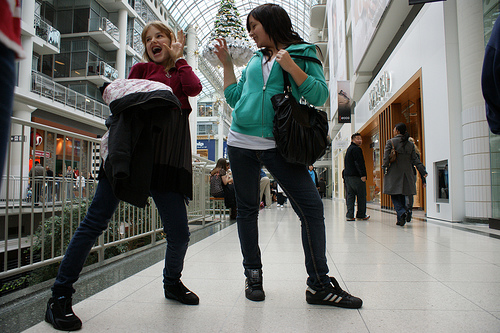 With 20 minutes until the end of the game, mall security arrived. Though they supported the event, they informed us we had to get out of the store and that we couldn't film anymore. We quickly cleaned up and got out of the store, not wanting to cause any more problems for them.
All together a huge success!
If you're interested in more photos, check out some of our photographers sets!
Agent Grantham's Photos: http://www.flickr.com/photos/jentakespictures/sets/72157608772995775/
Agent Rodriguez's Photos: http://www.flickr.com/photos/[email protected]/sets/72157608779344045/
Agent Huynh's Photos: http://www.flickr.com/photos/fishsauce/sets/72157608777772531/
You can follow any responses to this entry through the RSS 2.0 You can leave a response, or trackback.