Improv in Toronto is going to spread the love! Please join us on International Free Hugs day to help fill the entire city with hugs, and blanket it with love.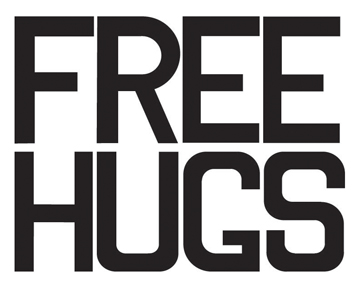 Watch last year's video, here.
Details:
When: Saturday, July 3rd at 3:00 PM
Where: South-West side of Nathan Phillips Square (in front of City Hall)
Bring: A big free hugs sign. Be creative!
Requirments For Participation:
1) Willing to hug people you don't know
2) Be ready to smile and laugh
3) Ready to have fun
So come down to Nathan Phillips Square with your sign (readable from at least an intersection away) and we'll take it from there! Event starts at 3, please don't be late!
This is going to fun and we're really excited for you to participate. And unlike many previous missions, we encourage you to bring as many friends as you like!
See you on the 3rd!