The first ever 'official' Improv Everywhere mission in Toronto. And us Canadians couldn't have been more excited.
Upon arriving at the park, I was initially surprised. Not because of the cameras or the helicopter, but because of the people. Atleast 300 people had shown up(I'm just guessing) and every one of them was wearing a brightly coloured shirt. I guess I should have expected this, as they had told us to come this way. But I couldn't get over how cool it was. To finally be at an improv event that I had been reading about for so long.
Soon enough the festivities started. And they did not dissipoint! We stretched, high fived strangers, hugged trees. Then we walked around with umbrellas(accidently walking through a live soccer game). Then we played some games: tetris, twister, instruments, etc.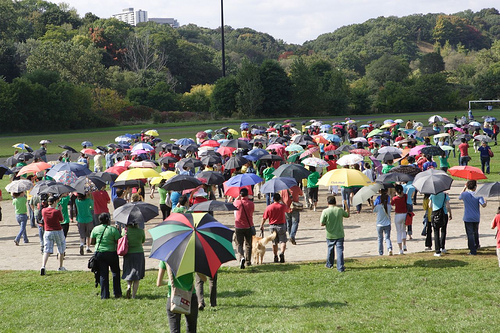 But all this time everything was overshadowed by the soon to come…epic battle, EPIC BATTLE. And it was epic indeed. After 30 minutes of training we were finally deemed worthy of fighting. And a fight it was. We separated into teams, my team (blue and green) to one side of the field and the other (red and yellow) to the other side. We then blew up our balloons and marched towards the opposing side. Our side was led forwards by a noble dog. Upon coming to 20 feet away we stopped and stared down the enemy. And then when the word was given, we charged! The battle was fierce. But in the end we were victorious. And so lay down for a nap with some meditative songs.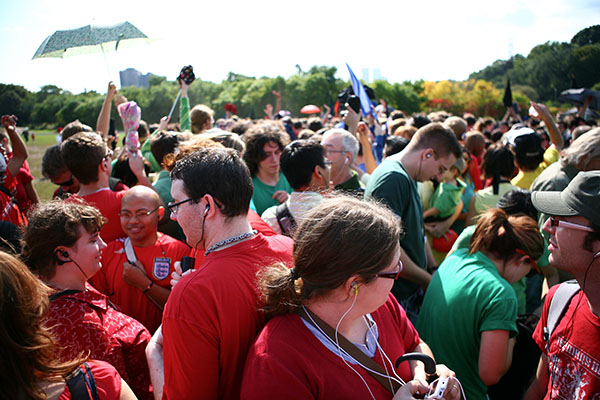 In all in was great time, and I would do it again without a second thought!
Pictures:
http://portfolio.kevinthom.com/mp3-experiment-toronto-2008
http://picasaweb.google.com/jazz.crib/Mp3experiment#
http://flickr.com/photos/sharilynj/sets/72157607560952040/
You can follow any responses to this entry through the RSS 2.0 You can leave a response, or trackback.