On a wintry Saturday afternoon, on January 10th, 2009, Improv In Toronto rallied over 300 people to get on the Yonge-University Spadina TTC line, wearing no pants. The "No Pants Subway Ride" mission, originally conceived by Improv Everywhere in New York in 2001. Now in its eighth straight year, 22 cities participated from Sydney to Calgary. Toronto's "No Pants Subway Ride" had the second most people involved in this mission, after the New York event. Over 300 agents were spread out over an entire subway train, baffling, surprising, and frightening thousands of transit riders.
Four participants act casual
Full Recap: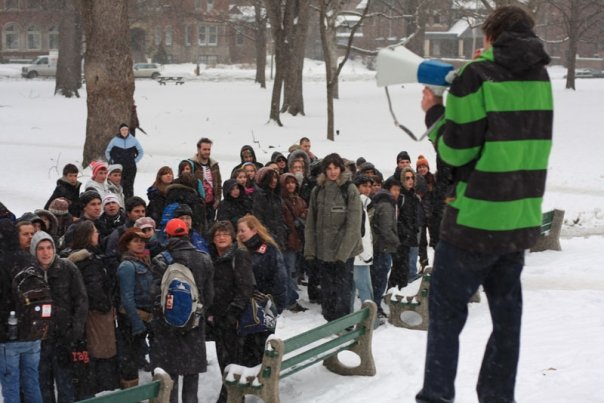 Agent Banning addressing the crowd
In Toronto's second year of participating in the No Pants! Subway Ride, the turnout quadrupled from 75 riders in 2008. Our agents, now, instead of occupying just one car, infiltrated an entire train. The weather was normal for this time of year; a brisk -9*C, with a light snowfall.
The crowd met for a briefing at 3:00 PM at the Statue of Edward VII in Queen's Park. After at least an hour of standing in the cold, we decided it was time to move out. We heard there were police at Museum Station, our original point of departure, although we weren't entirely sure if the police were there to deter us. Not wanting to send over 300 people home without completing their mission, we decided to head south to the next closest station, Queen's Park Station.

The walk towards Queen's Park Station
Upon arriving at the station, we headed down to the tracks to get positioned for the subway. Going down the stairs, we saw police were at this station too. After quick talk with them, it became apparent they were in fact there for us, but they had no problem with our mission – they just wanted to keep the peace. Before the train was even visible a roar went up within the station as the soon to be pantsless participants cheered the subway into the station.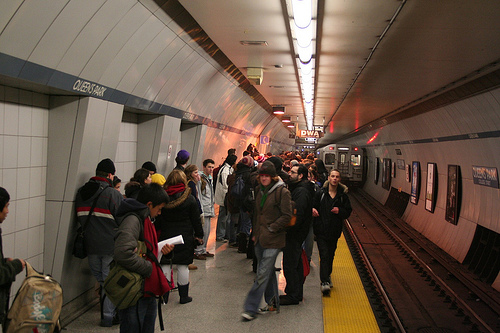 Groups forming before getting onto the subway
As the train pulled into the station, we all boarded casually. Many people were already curious as to how the subway had suddenly become so crowded. Seconds later, they had a bit more to worry about, as the first group took off their pants. The reactions were instant; many looked away, some gasped, but most people laughed. One lady on my train ranted, "What is this world coming to? Some people have no decency!"
As we pulled into the next station, St. Patrick, the first group to "de-pants" got off. After removing their pants, agents got off the train and waited on the platform. When the next train pulled up they would get back on, but this time, without pants. Each following stop larger groups of agents would get on without pants. Eventually, every other person on our train was pantsless.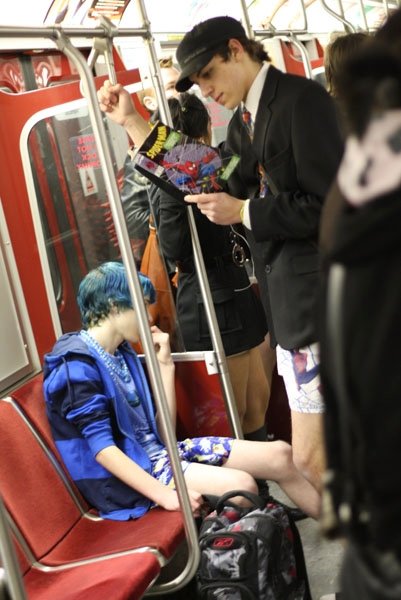 Agent Dineen reads a Spiderman book while wearing matching boxers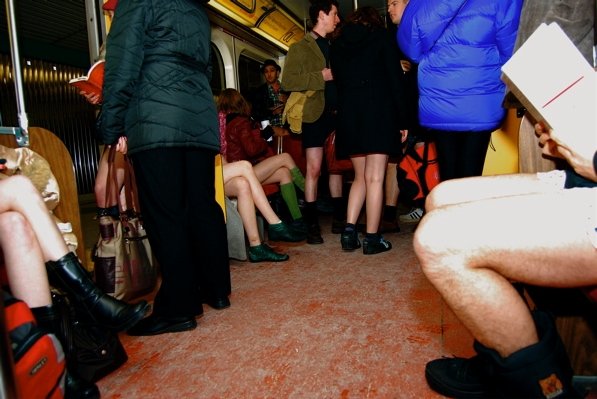 Pantless riders overcrowd unsuspecting TTC riders
We rode around the downtown loop and continued north to Eglinton station, where all agents got off the train. Without delay, we crossed the platform and boarded the southbound train. From there, the agents loosened up, focussing more on fun than on confusing bystanders; some agents even brought along instruments to serenade all riders, agents and bystanders alike.
The "No Pants Subway Ride" was wildly successful. Improv in Toronto agents completed their mission, with the help of a couple of unsuspecting subway riders joining the fun by taking off their pants along the way.
Agent Reports
Agent Ash-k:
I arrived at the Horseman Statue at roughly 2:04. Yes, I know that's about 30 minutes early, but I underestimated the Leslie Bus/Subway speed. After having my butt frozen for about 10 minutes, Steven from the Torontoist comes and joins me for a quick interview! Very nice fellow, if I may say so myself. After a few more minutes, Cole comes, and then slowly but surely, more people begin to join us. Once we have about 10-20 people, I start a snowball fight out of my ass being frozen. Pardonnez mon français. I may also add, that I was never hit . At least, not that I know of… My butt WAS frozen, so I may not have felt it… Either way, after the snowball fight we have a lot more people. I didn't feel like counting because… well, my butt was frozen and I couldn't bring myself to do so. So there's more people, and it's about 3:00 now, so Cole gets the show underway. Explaining the rules, dividing the groups, etc., etc. Now I have my group, so I re-explain what Cole was explaining, and then me and Sean (My partner in crime) divide our group to where people are getting off. And we're off! Imagine seeing 250 people walking in a line on the sidewalk to the subway… Must have been pretty freaky… Anyways, we get in the subway station (Queen's Park, because there were cops in Museum Station) and Sean is lucky #1 to take off his pants! Pretty funny, I've got to say. Must have been hard for him to keep a straight face, being the first one and all. Good job man. Now more and more people are taking their pants off, and getting off the train, until there's only me and a few other people who are supposed to get off with me at College. So we're waiting on the platform at College Station, and there's this sweet old lady who's asking them what's going on. Couldn't really hear what she was saying, but she was laughing, and that's all that matters. Then we get on the next train, and I see all my group without pants! And what a beautiful sight it was! So now we're all pantless, and this other old lady is a bit freaked, but it's all good cause she got off before Eglinton, so I could sit beside these girls heading uptown from a shopping trip. It's always fun freaking out those 8th graders. You know, crossing and uncrossing your legs, stuff like that. We then get to Eglinton Station and everyone gets off. Pretty funny, I gotta say. We get on the Southbound train, I sit in beside these 2 women, it's always fun seeing people try not to look, so they look at you through their peripherals… Later on the ride, an older guy asks a pantless rider what he's doing, and he says it's just pure coincidence (Thankfully). After that, I hear (Well, read) that there were some cops at Bloor, I don't know if anyone got in trouble though. Then it was pretty uneventful till I get off at Queen's Park(or Museum, can't remember), when I talk to Eddie and head out to St George to meet up with the rest of IT.
Agent Hotdamn:
Before I even left, my mother gave me a wonderful guilt trip. She told me that, while if guys take off their pants in public, it'd just be seen as them being jerks and that no one would care. Yet, if a girl does it, suddenly people start thinking she's going to take off her top next or that she might not even be wearing underwear…or something. Yeah, she's just the best, isn't she?

Any who, for once I was finally able to arrive to a mission on time, and got to enjoy standing awkwardly with some other people in the snow. It took a while, but eventually, through a snowball fight and some other people showing up, things started happening. I met up with some fellow IT-ers & even my brother & then lost the game (Thanks Cole). Eventually it was time to start thing & I went up the hill with the other leaders to try and get everyone organized. I tried to be train #1 with Esa & Katie, but our interpretive dance was denied D: After a quick briefing on how the whole thing is going to play out my partner Katie & I were going to go & lead a group, though being short leader, I ended up leading my own group. Thankfully there was a man in my group who understood the plan (probably better than me). So he helped get everyone organized as we were given the title car number three. Everyone understood fairly well and easily split into groups as I assigned them each their station. I decided to be with the last group, so I'd be on the train to make sure everyone got off (plus I was a little shy about being the first to take my pants off).

We began our march to the station, which is about the time I noticed that the zipper on my left boot was broken (remember that, it's important!). So we got to the subway, paid, got back together in a group, reminded everyone we don't know each other & our cover storied & proceeded down to the platform. Again, my helper guy was the one who was able to get everyone together as well as talk to the police that were there about what we were doing (man, I owe him a drink or something).

The subway came (& blew its horn for us :] ) & we all got on full of casualousity. The first stop was called & I looked over & there was a group of guys taking their pants off, complaining that they'd just had enough of pants. I was so proud. A couple people noticed, but I don't think they thought much about it. It wasn't until the next stop when more people noticed and began to think that something was going on. & by the third stop, once people took off their pants and left, people were actually glued to the windows looking out at them in disbelief. My stop finally came & I could see the other people taking off their pants. I proceeded to a door & tried to take off my boots to get my pants off. I got one boot and pant leg off, but remember what happened to my other boot? Yeah. The subway was beginning to reach the stop, & luckily one of the fellow pants less riders was near me & first asked if they could put their pants in my bag, since they'd forgotten. & I made a deal with them that I would…if they helped my take my pants off (I suppose I owe him a drink then too). He did & just in time. We walked proudly off the subway , as anyone would if they weren't wearing pants. We waited on the platform for the next train, talked for a bit, & were only really embarrassed when we saw a mother with two kids walking down towards us on the platform. D:

After that it was pretty straight forward, we got on the next subway & thankfully the rest of the pant less riders were on already & being very casual about it. So I just enjoyed my ride to eglinton station, glancing up and down the train at the people with no pants on and the people very confused & freaked out about it. Once we got to eglinton, my helper guy thought it would be better to wait for the next train, instead of going on the one that was already there. Though, with Katie on the train, and I not having any way of reaching her otherwise or a place to meet up with her again, I went ahead on the train. (Plus Cole told me too). I meet up with Katie & some other people as well as saw a group of pant less riders trying to convince another guy to take off his pants. As well they even convinced a girl to do it, except, she was wearing a g-string, so they told her to put her pants back on.

Overall it was a good time. A couple strangers took my picture, which was a bit weird. Otherwise, I meet some great people, had a great time & hope to see some of them again at future missions. :]