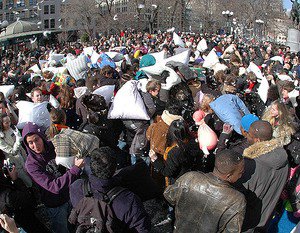 On Saturday April 7, 2012. Improv in Toronto and Newmindspace present: Pillow Fight Toronto 2012: BUNNY EDITION!
Bunny ears fly and pillows soar as you converge for a giant urban pillow fight! Swing and whack as you evade pillow-wielding assailants. Bring a soft, feather-free pillow and wait for the signal.
This year's theme: Bunnies! Bunny ears, bunny costumes, chocolate, plastic eggs.
Rules: Please follow these guidelines to ensure a safe and fun pillow fight for everybody!
+ Soft, feather-free pillows only!
+ Swing lightly, many people will be swinging at once.
+ Do not swing at people without pillows or with cameras.
+ Remove glasses beforehand!
+ Please do not leave your pillow, take them with you.
+ Bunny ears strongly encouraged.
Cleanup: Please eliminate your use of feathers. By participating, you are pledging to clean up twice the mess you made.
When: Saturday April 7th, 2012. 8pm.
Updated:Â Where: Yonge-Dundas Square.
What: Bring a pillow.
RSVP to the Facebook event here