One agent enters a downtown Starbucks. They buy a drink, then leave. After they have left another agent will enter, dressed exact same. They will act out the EXACT same routine, buy the same drink, etc. Then leave. This sequence will repeat every 3 minutes.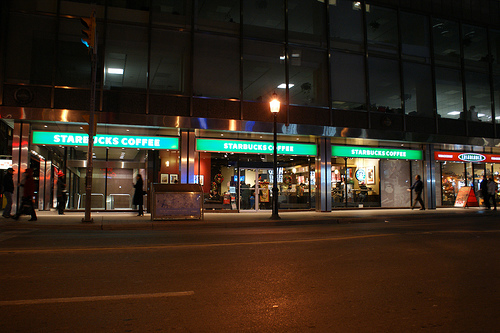 To begin the mission, we staked out the Hero Burger across the street, for our base camp.
Each agent would cross the street, act out the predetermined routine, and then return.
1)Enter Store
2)Get into line.
3)Drop hat by accident just before it is your turn
4)Ask if the the Vanilla Latte is good.
5)Order it with whipcream
6)In the middle of the order you are interrupted by a phone call.
7)Apologise for the interruption
8)Thank the employee nicely.
8)Pick up drink when it is done being made
9)Ask where the milk and sugar are
10)Notice a placed agent, and walk over and exclaim you havn't seen them in years.
11)Ask where the the placed agent where the subway station is.
12)Leave
Our first task was to all drop our hat, and it was one of the most effective of our tasks. Within the first three people, the employees of Starbucks were stating that the spot we had all dropped our hat was 'cursed'. We chuckled about this and continued on.
Next came the order of the Vanilla Latte. Not surprisingly they did not notice this at all. They get hundreds of orders a day, and so getting 20 orders of this drink was not suspect. In the middle of our order though, came the phone call. And it was a riot. We had two agents in the store, calling each agent as they were ordering their drink.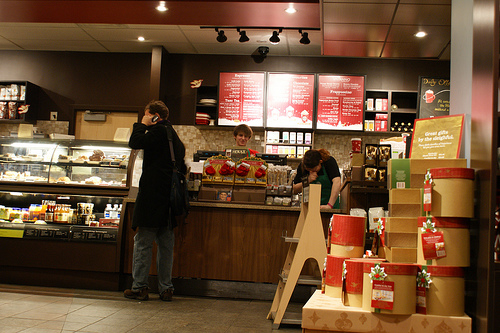 In the middle of the chaos of the phone call, came paying for the drink. This is where we added an extra step to the routine. When the first agent had been ordering he had spent about a minute fiddling with his change trying to get the exact right amount, using nickles and dimes. This idea was quickly adapted to the routine, with each agent entering with as much change as possible.
From there we got the drink, and headed over to Agent Sixpence (our placed agent). Each of us pretended it was the first time they had seen him in YEARS, making a really big scene of it.
Those sitting at the surround tables, had no idea why everyone seemed to know this one person!
Finally the routine is over, and the agent would head out, back to the Hero Burger. Where the next agent would be sent out to repeat the routine.
Throughout the experience we received various comments from the staff and customers. From claiming there was a ghost to comments on the phone going off.