Subway Dance Party 2K9 (Summer Edition)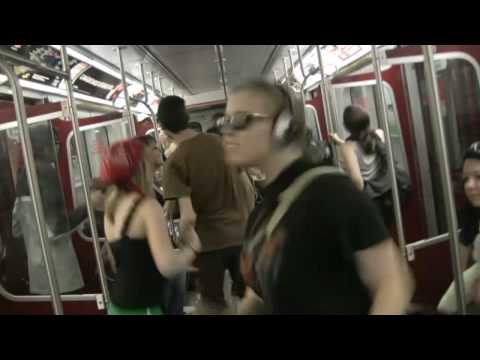 For our 3rd Annual Subway Dance Party, around 250 people of all ages arrived downtown with their mp3 players and dance shoes ready. The mission encourages all participants to bring their own music, and then dance to it on the subway. It starts with just one person dancing, and then slowly builds to the whole train. Enjoy the video recap first, and then check out the photos and report.
If you've never heard of the Subway Dance Party series, you can read about the very first mission here
This years mission, like both of our previous dance parties, had everyone meet up for a briefing in the middle of Queens Park. By 3:00 we realized the turnout, would be somewhat less than our previous one, but still a significant amount!
As soon as we thought everyone had arrived, we quickly formed everyone into groups. Each group was between 15-20 people in size, and would be assigned their own subway car.

One group gets to know eachother with a group hug
Groups begin heading to the subway station

The lineup to get in got quite long

A TTC employee looks on in shock
After everyone was through the gate, and onto the actual platform, everyones attitude quickly changed. From a group of excited friends to no knowing eachother, just a regular day on the subway. As the subway pulled in everyone, got on, and took their seats.
Within seconds of the subway pulling out of the station, one dancer on every car began dancing by themself.

More people join the dance party
As all of this unfolded before the unknowing and unsuspecting people on the TTC, they could not help but react. Most craned their neck to see other dancer, smiled to themselves, laughed, or even tried to ask someone else what was happening.

Not everyone seemed to think it was funny though
Eventually the train conductors got wise to our dancers. And they politely asked us to get off the train. Lucky for us, we were already almost done, so we did not miss out on much. We politely got of their train, and rode of seated for the remainder of the trip. But many of the participants decided they wanted more dancing! They headed to Dundas Square to finish off what had been interrupted.
In the end we created an interesting and hilarious show for those riding the TTC. We stepped out of our own comfort zones by dancing in front of people we didn't even know(on a subway to boot). But most importantly laughed, danced, and shared this time with new friends.