Dinosaur Rights Protest
Dinosaurs are extinct, but that dosn't mean they don't have rights. And we went out to prove it! The goal of this mission was to hold a protest outside of the Royal Ontario Musueum. The basic of our argument was that "Dinosaurs were not being treated fairly".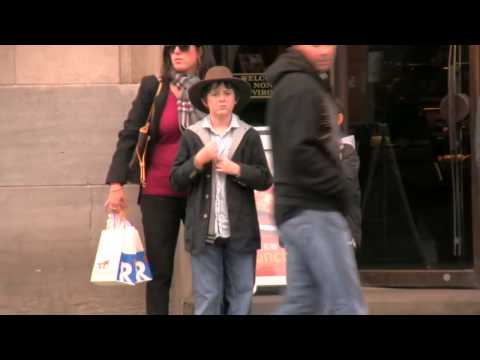 As the time for the protest finally arrived, a meager 4 people had showed up. Things were not going as planned. Especially considering over 70 people had confirmed coming. We were quickly losing hope, but decided to give it our best shot anyways. With one last glance around the park, we realized no one else was coming and walked towards the ROM.
As we arrived on the scene, more people had showed up bringing us to near 10. At first everyone was nervous, and so we clumped together. But soon enough, we all started getting into it. The chants started, with some of the favourites being "Dino-Mite for Dino-Rights!", "Join the fight, for dinosaur rights!" & "D-I-N-O dino rights are go go go!"
Within seconds crowds started forming around us. Most people smiled and laughed and then walked off, but others came closer and asked to know more. This is when the improv quickly came into play. With us all saying anything to convince the crowds.
Agent Cally; "We want the bones back in the ground!"
Man; "Well then how will we study our past, to learn about life?"
Agent Cally; "Is that really the price we must pay to learn about our past?"
The man then just walked away realizing Agent Cally did not plan to budge on this issue.
As time went on more and more agents continued to arrive, with us eventually reaching a grand total of 25! Along with all these Agents came Agent Mike?, who came prepared. He came out swinging with tons of nifty little sayings and rants. He really got everyone going, with the protest getting more and more wild.
Some people didn't find it so funny though, they were getting seriously annoyed with us. It even got to the point where one man called out in disgust; "There are children here! You guys disgust me!".
Eventually the complaints became too much, and some ROM staff came out to investigate. At first they were skeptical, just walking around to have a look. But eventually we won them over, with them all having a small chuckle.
But they weren't done with us yet. Soon enough one of the head managers of the ROM came out, and he wasn't having any of this. He quickly informed us that we were getting some serious complaints and that we must get off there property!
Not wanting to cause any unrest. We followed his orders and continued the protest on the curb. Which in the end, turned out to add to the fun. This gave us a better chance to use our signs on people driving by, some that really had an effect were; "Honk for the Hydrosaurus" & "Dinosaurs Arn't Just Fossil Fuels".
The protest continued on for the next half hour from the road-side, until we were all spent. To end the success of the protest we headed over to McDonalds to eat.
Note: If you have pictures or videos please email them to me ([email protected]), so that they can be added to the mission post!
News Coverage:
http://torontoist.com/2008/10/phototo_dinosaurs_in_need_ontario.php?gallery16205Pic=3#gallery