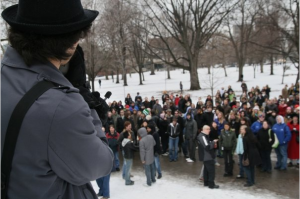 Recently, Improv in Toronto has been contacted by a TV network, they're coming into town for the Toronto International Film Festival and they love what we do.
They want to shoot one of our missions during the festival, and that is where we need YOU! Fans of Improv in Toronto! You might get the chance to be on TV!
Basically, we'll be rolling out our own Red Carpet during the Festival, with our own stars and reporters, with you all being the crazy fans we need to attract the attention of the festival to make this huge.
Check out the facebook event, HERE
Details:
When: Saturday, September 12th around 1:45-4pm
Where: Meet at the park near Bay Station
What to wear: Red and white
What to bring: Flags, pen and paper to get signatures, camera's and whatever you think a crazed fan would bring!